It's only one month until the 10th anniversary edition of Ash is released, and I'm thrilled to show you the full, updated cover today. It still retains the image of the girl curled up on the ground that made me love the original cover so much, but the title treatment is new and several incredible authors have contributed new blurbs for Ash.
I case you're not familiar with publishing jargon, blurbs are those little bursts of praise that are printed on book covers. (For example: "This book is better than sliced bread!" — Jane Bestseller, Author of Many Bestsellers) They are a source of incredible anxiety for authors, because who wants to go around asking for other people to praise your book publicly? It's totally nerve-wracking!
So when I learned which authors had offered new blurbs for a 10-year-old book, I was completely floored. Here they are on the new cover, front and back:
I am a fan of every single one of these authors, and I'm so honored that they took the time to do this for my book.
If you'd like to preorder a signed copy of the 10th anniversary edition of Ash, you can do so through my local bookstore, Porter Square Books. You'll also get the best bookmark ever (in my humble opinion), the one that says MY BRAND IS LESBIANS.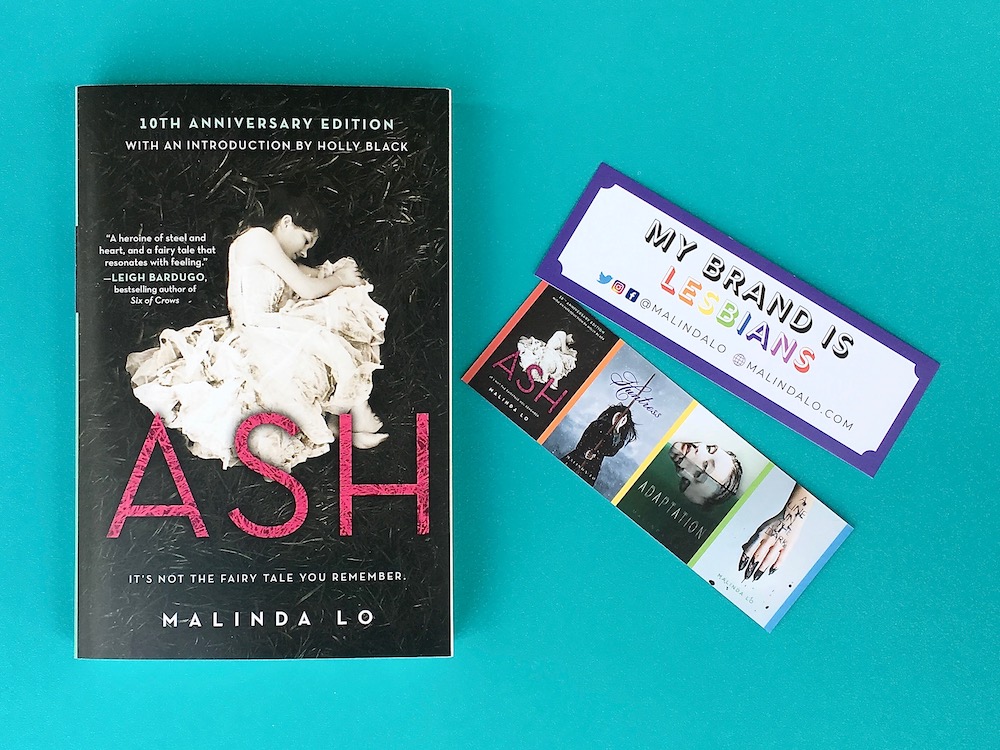 And if you're in the Boston area, I'd like to invite you to Porter Square Books on the night of May 13 to celebrate the 10th anniversary of Ash and a decade of young adult books about queer girls. I've invited a bunch of YA authors to join me to share some of their experiences with writing and reading YA about queer girls: Sara Farizan! Molly Booth! Adrienne Kisner! Rebecca Podos! Rory Power! Rebecca Kim Wells!
It's going to be a party! If you're able to come, please RSVP at this Facebook event listing so that I'll know how many treats to bring. (Maybe it'll be cupcakes! Maybe it'll be special Ash-themed sweets — come and find out!)